One of our favorite things to do in San Diego is to spend a day or two at SeaWorld. Really, what's a trip to San Diego if we don't make it to visit the whales!
There is so much to do at SeaWorld that we can never do it all, but some of my favorite things to do are the behind the scenes tour and Dine with Shamu. If you can do more than one day, then you have to add these in to your schedule. There are usually several behind the scenes tours to pick from and well worth it. However, my all time favorite thing is Dine with Shamu! We never miss it.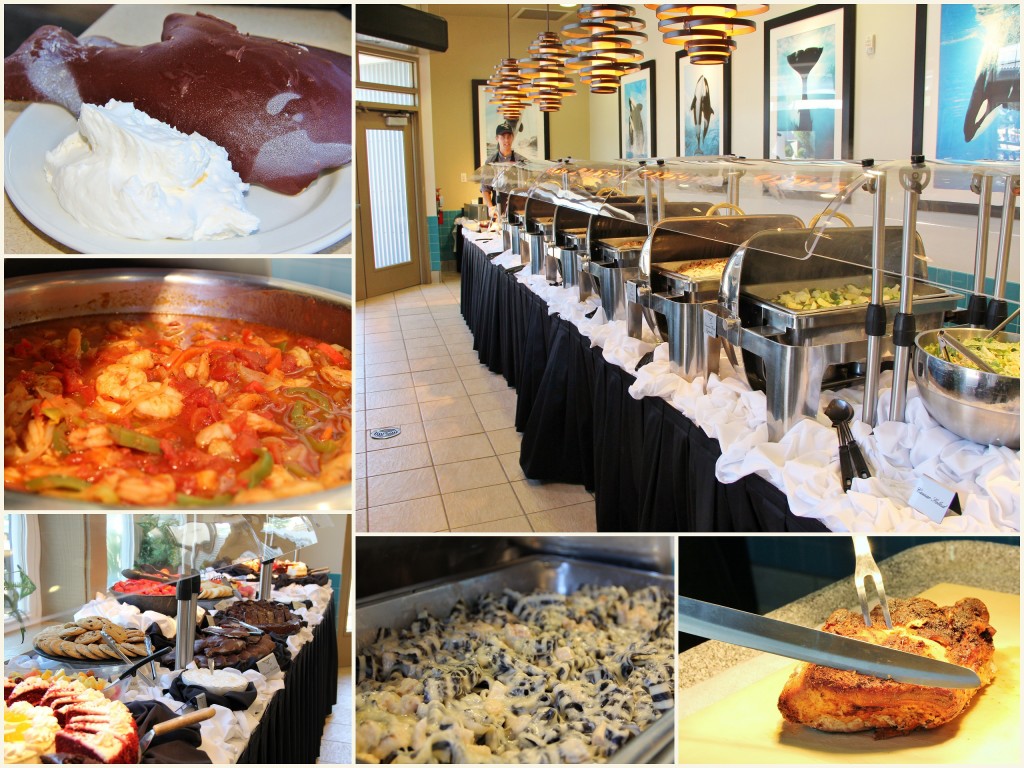 Even though SeaWorld has some of the better theme park food, Dine with Shamu food is even better. My favorites are the black and white pasta (think Shamu colors) and of course the Shamu cookie. But there is an entire buffet of freshly prepared foods from pasta to seafood to rice and beef. There is a carving station and an entire table of kid favorites like hot dogs and mac & cheese. I feel I might be ratting myself out here, but the desert spread is really fantastic! Cookies, cakes, cheesecakes, and more!!! The food is wonderful, but I haven't even gotten to the best part….
It's not called Dine with Shamu for nothing…the dining tables are outside surrounding the whale pool and one whale joins you for lunch. On our day, Ulises, was our guest of honor. The seats are so close to the tank that just a piece of plexiglass and a tiny walkway for the trainers separates you from the whale. It's amazing to be this close to these giant whales and watching how graceful he was in the water. My pictures below are not zoomed in at all…we were really this close.
Check out SeaWorld online, Facebook, and on Twitter. The next time you are planning a trip to SeaWorld, I highly recommend getting reservations for Dine with Shamu…it's a once in a lifetime experience. It's a good idea to make your reservations early, often times they sell out.
*I was not financially compensated for this post. My family received tickets and lunch for review purposes. The opinions are completely my own based on my experience.*