It's January and that means 16 huge monster trucks will be taking over Chase Field as Monster Jam returns to Phoenix for one night only. My family has gone every year for the last five years and it just keeps getting better and better. Recently, I had the chance to chat with Carl Van Horn, driver of one of the Grave Digger trucks.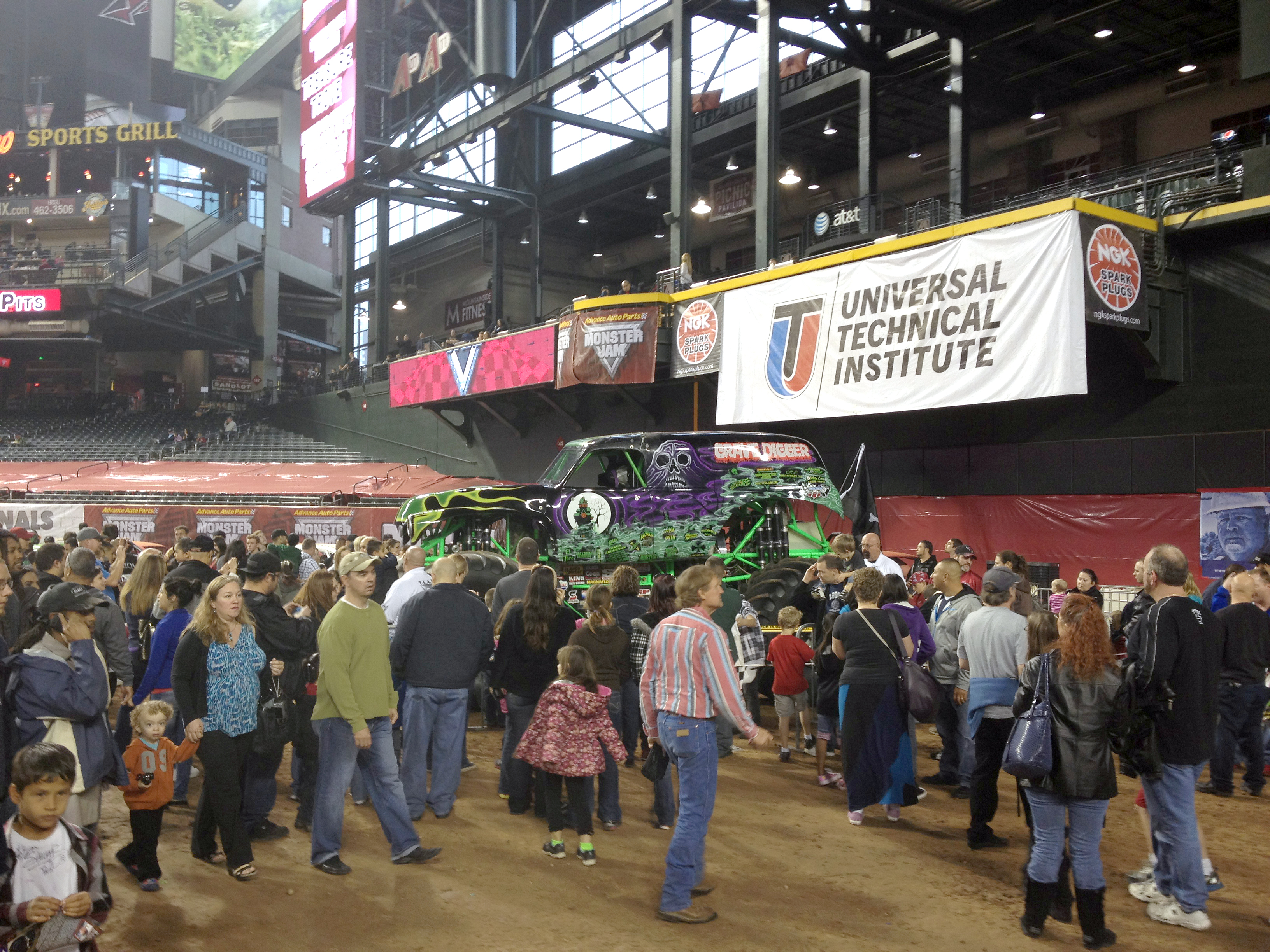 Van Horn started competing with Monster Jam in 2002 and has been driving Grave Digger for the last 5 years.  He started off as a mechanic for another team, but the driving bug caught up with him and he won a chance to try out to drive a big truck.
The Grave Digger Team has a huge following, even by the youngest monster truck fans.  Van Horn attributes this to the fact that the team is the whole package.  The Grave Digger Team has some amazing drivers plus they love spending time with their fans, and going crazy during their free style time.  The original driver of Grave Digger, Dennis Anderson, drove so crazy that it was hard not to be a fan.
Van Horn is already planning his win and is getting focused for the Phoenix race.  He says to win, he needs to stay focused and get the fastest lap possible.  He also plans out his first three or four freestyle tricks and then just goes crazy.  He's ready to win and excited for the competition here in Phoenix.
There are 6 trucks headed to Phoenix for the first time and Van Horn says that Freedom Keeper is definitely one to watch out for.  The other trucks coming to Phoenix include Dragon, Scooby-Doo, Monster Mutt Dalmatian, Heavy Hitter, River Rat and Northern Nightmare; along with other fan-favorite trucks including El Toro Loco, El Diablo, Felon, Scarlet Bandit, Bounty Hunter, Menace, & McGruff!
Van Horn's favorite part of driving Grave Digger and being part of Monster Jam is his love of the competition and the fans.  So, head out to Chase Field on Saturday, January 24th and stop by his truck for an autograph.  All the teams will be down on the track during the Party in the Pits for autographs and pictures with their fans.  It's one of my family's favorite parts of going to Monster Jam every year.
If You Go
When: Saturday, January 24, 2015
Party in the Pits from 2:00 PM – 5:30 PM*
Event begins at 7:00 PM
*Event ticket & Pit Pass required for entry
Where: Chase Field – 401 E. Jefferson Street, Phoenix, AZ 85004
Tickets: Ticket prices range from $20-$145, Pit Passes $10
ticketmaster.com, Chase Field Box Office, or 800-745-3000
More Info: MonsterJam.com
EVMG Newsletter
Subscribe to get our latest content by email.