This recipe is a love letter to my husband. As I was writing this post, he was requesting I make this again. It earned me major brownie points. He is a huge fan of avocados (brownie point #1). He loves breaking into a perfect soft egg and having the yolk run all over the plate (brownie point #2). He is a big fan of anything with spicy heat to it (brownie point #3).
This dish would be great for breakfast or supper. My family frequently enjoys "breakfast for dinner" nights, so there are no set rules about only having eggs in the morning. I could picture serving these baked eggs and green chiles in avocado for a brunch and it would be a total wow! For our supper, I paired them with a maple veggie sausage. The chiles gave such a great heat that it countered the sticky maple sweetness perfectly.
I love roasted Hatch chiles and look forward to late summer when some of the farmer's markets will get some in from Hatch, New Mexico. Frequently you will see stands where they are turning big round roasters, charring the outside till the skins start blistering off. The smell is amazing! You can roast them at home, but I always like when the work is done for you. Real Hatch chiles are grown in Hatch, New Mexico, and are only available for a few weeks, so do not be fooled by grocery chains that have "Hatch" chiles from Mexico or California. They are not the same!
Most years I will buy a big batch of chiles, roast and sweat them till the skins peel off, chop them up and freeze any I can't use right away. It takes time and effort that I usually don't have. The Hatch Chile Store  has solved this problem for me because they flash freeze the chiles already roasted and peeled. Less work for me in the kitchen!
This recipe is so super easy and requires very little prep. I saw the idea for a Paleo Breakfast and thought the Hatch green chiles would be awesome with it. I will tell you that I scooped out a little of my very large avocados to make sure I had extra room for the chiles and egg. My toddler loves avocado as much as Daddy, so it wasn't hard to get someone to volunteer for taste testing. I would suggest cracking the egg in a small bowl, then adding it. If you have large eggs, you may need to leave out some of the white so it doesn't spill out. I just scrambled a bit of the extra white with an additional egg while the avocados were cooking. It was part of my toddler friendly version. I also put a little bit of crumpled aluminum foil on my baking sheet so the avocados didn't tip when I put them in the oven.
[amd-zlrecipe-recipe:4]
*Note: make sure your eggs are done to your liking. My husband likes his soft, but if you like your eggs cooked more, leave them in another few minutes. It won't technically be a #15MinuteSupper, but it'll be worth it.
Keep Reading for an Amazing Giveaway of Green Chiles worth over $400!!!
Today's 15 minute meal ideas all use Hatch Green Chiles from Hatch, NM.  There is nothing better than a perfectly ripe chile and these chiles are picked, processed, and frozen within a couple hours.  They are super versatile and we've created some amazing #15MinuteSuppers using these delicious chiles.  There are a few appetizers and the rest are main dishes!  Which one is your favorite?
Need more quick 15 minute recipe ideas? Check out these other great #15MinuteSuppers!
Follow 15 Minute Suppers on Facebook | Twitter | Instagram | Pinterest
and look for the #15MinuteSuppers hashtag too!
Appetizers
 Main Dishes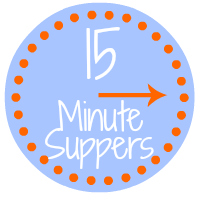 BLOGGERS: Would you like to join us at #15MinuteSuppers? We'd love to have you! Please check out the 15 Minute Suppers website or ask to join the Facebook group (for bloggers) to participate on Fridays…we'd love to have you join us.
Disclosure: This is sponsored recipe for the Hatch Chile Store through 15 Minute Suppers.  Recipe & opinions are my own.