I am so excited to participate in #15MinuteSuppers this week! Wholly Guacamole and all the Wholly products are definite favorites in my house. I was given a yummy box from Wholly Guacamole for my recipe. Although we are big fans of their guacamoles and salsas, I was excited to try the Wholly Avocado since I'd never used it before. Best of all, you can enter to win your own stash of Wholly Guac products. Make sure you check out all the other recipes and enter the giveaway below!
This California Waldorf Salad has been a family favorite for over 10 years now. A very dear friend had a dinner party and asked me to make this salad for her. The dressing totally blew my mind: creamy, tangy, sweet, and bright. The main ingredient: avocado. (I didn't even like avocado before this salad- no joke.) I have adapted over the years and now it is truly our own. 
I am always looking for quick meals  that the whole family will eat. The addition of fruit makes this salad one that my kids love. I deconstruct theirs so they can dip the fruit in the dressing and not have everything touching.  This is my toddlers' plate below. You can see I left off the cashews and cut the celery a little larger so he could just dip it in the dressing and gnaw on it. 
Serve with a crusty piece of bread or some grilled chicken strips on top if you chose, but we usually just eat it alone it as a light but filling meal. 
California Waldorf Salad
Ingredients
1 pound fresh romaine or baby spinach, torn
2 stalks chopped celery
3 apples, in chunks (I usually do 2 Granny Smith & 1 Fuji)
½ cup dried cranberries
½ cup chopped cashews
1 large can mandarin oranges, drained
2 sprigs parsley, chopped
2 sprigs basil, chopped
Juice from a lemon (save rind for dressing)
Dressing:
½ package Wholly Avocado
1 cup plain yogurt
½ tsp lemon zest
2-3 T honey (to taste)
Instructions
Toss apples with lemon juice. In a food processor, combine dressing ingredients and pulse till very smooth. Taste to adjust lemon and honey balance, add additional zest or juice as needed. Toss together all the ingredients with the dressing. I usually end up with a bit of dressing left over since I tend to lightly dress the salad. My kids prefer the salad "naked" with the dressing on the side. Enjoy!
[amd-zlrecipe-recipe:5]
Need more quick 15 minute recipe ideas? Check out these other great #15MinuteSuppers!
Follow 15 Minute Suppers on Facebook | Twitter | Instagram | Pinterest
and look for the #15MinuteSuppers hashtag too!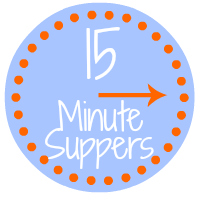 BLOGGERS: Would you like to join us at #15MinuteSuppers? We'd love to have you! Please check out the 15 Minute Suppers website or ask to join the Facebook group (for bloggers) to participate on Fridays…we'd love to have you join us.
Disclosure: This is sponsored recipe for Wholly Guacamole through 15 Minute Suppers.  Recipe & opinions are my own.
EVMG Newsletter
Subscribe to get our latest content by email.