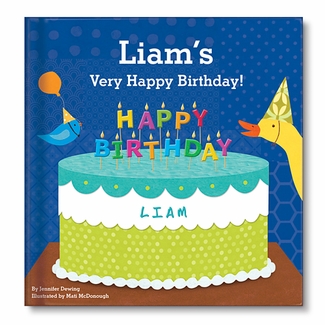 If your kids are anything like mine, then they LOVE anything that has their name in it.  But the Very Happy Birthday book is even better….it is completely personalized with their birthday and what birthday they are celebrating and more!  This is such a creative and unique gift for kids…I love giving books as gifts for birthdays and holidays!
It is a hardcover book with board pages.  The book is 20 pages long and the story, which is written by an award winning author, is very sweet.  It is also made in the USA.  My kids really enjoyed it.  In fact, my daughter has been begging for the girl version for her birthday.  When I gave it to my son at his party, all the parents ohhhed and awwwed over the book and everyone took a turn reading it.
From their website:
In this delightful story, Duck, Mouse, Turtle, Bluebird and other friends come together to prepare a special birthday party and cake for your little boy. As an added personal touch, this beautifully illustrated book includes a personalized cover and a printed dedication from the sender.
My Very Happy Birthday Book is just one of the many personalized books that I See Me! offers.  In fact there are 17 books to choose from and they offer other personalized products too like placemats and puzzles!  The book runs about $30 and takes about 2 weeks for delivery after you order.
Disclaimer: I was given a book for review. All opinions are my own.
EVMG Newsletter
Subscribe to get our latest content by email.